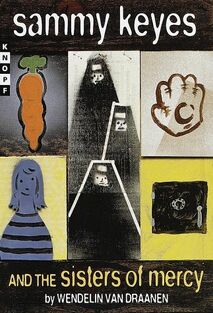 Template:Quote
Sammy Keyes and the Sisters of Mercy is the third book in the series. It takes place in November during the time near Thanksgiving.
The resourceful, wise-cracking seventh grader returns in another whodunit filled with nonstop action and true-to-life dialogue. Sammy's adventures begin as she is working off 20 hours of detention time by helping out at St. Mary's church after school. While cleaning windows, she notices an unfamiliar girl. Before she can introduce herself, Father Mayhew discovers that his treasured papal cross has been stolen. Circumstances point to Sammy, and the gauntlet has been thrown. When she sees the mysterious girl again at the curch soup kitchen, her curiosity is aroused. Does the stranger know anything about the stolen cross? Savvy readers may pick up clues that point to the real thieves but it is Sammy who eventually pieces it all together. Van Draanen deftly intertwines other subplots, adding depth and interest to an already engrossing mystery while capturing the angst of junior high school, cliques and all. Sammy also worries about the softball playoffs and her troubles with her arch enemy and rival team member, Heather Acosta. The mystery is solved in a climax full of excitement that culminates in a chase scene.
TThe book begins with the usual prologue, with Sammy explaining that she was working off some junior high detention time for abusing the school's PA system. But Father Mayhew has just discovered that something's been stolen. And the only people in the church are him and her. Sammy says that Father Mayhew isn't the kind of man you'd steal from, due to his holiness. She also notes his complicated eyes. When Sammy reports to Father Mayhew's office to start working off detention. Father Mayhew asks her to do some painting and says that the wall hasn't been painted in ten years. Father Mayhew's dog, Gregory, comes out from under the desk and is strangely friendly to Sammy, but according to Father Mayhew he is not a social animal. Father Mayhew leaves for the parish hall and Sammy begins painting. While she n home needing paint and he was getting his office painted again. She then hobbles out, and Sammy watches her leave before starting the second coat and wondering how black and blue Father Mayhew's shins are. As Sammy finishes, Father Mayhew and Gregory come in, with no sign of hurt shins and in a great mood. He calls Sammy 'lass' and tells her that she did a great job.
The next day Sammy Washes windows, but has to move to the back each time someone comes to worship. First a lady in a shawl comes in, followed by a man and a woman who just cry. When they leave, Sammy gets back to work and notices someone leaving the church-this time a girl with a ponytail and hightops. Sammy was just about to chase after her when Father Mayhew yells for her to get in his office. In the office, Sammy discovers that Father Mayhew thinks that she has stolen his ivory cross. She denies it, but Mayhew doesn't believe her, throws her out of the church, and sends her over to the soup kitchen. She has to stick her foot in the door to block Brother Phil from shutting the door. When Phil lets her inside, Josephine and Mary Margaret are hovering over a map. When Sammy comes in, Josephine jumps up and asks what she's doing here. Phil says that Mayhew sent her over to help, and Mary Margaret says that it's wonderful and that she and Josephine were planning their vacation. Phil interrupts and says he doesn't know why they plan it out, since they go to Las Vegas every year. Josephine counters that last year the bus broke down and they had to wait five hours in the middle of the desert. Mary Margaret breaks in and kind of smooths things over and the crew starts setting up. Things are going good until a man with tatooes shows up and wants another sandwich. When Sammy says that they are only supposed to have one, he reaches over and takes one. Phil yells at him to put it back, but the guy just snarls and spits on the out food again and suddenly she's face to face with the girl from church. Sammy says "Hi!" but the girl looks at her suspiciously then takes her food and goes. Sammy wonders why the girl is getting her dinner at the soup kitchen.
While Sammy, Marissa, and Dot are eating lunch Heather comes by their table and says that they will bite the dust on Monday. Dot comes up with a comeback, asking if Mr. Vince got a new shortstop. Heather says that they think they're so smart, but Sammy says, "No, Heather-you just make us look that way."